It's Mel. This week, I'm filling in for Kevin who is at Disneyland treating his five-year old twins to the Magic Kingdom. For those on the East Coast and in the South, yes, there's still a Disney Park on the West Coast. I know. It seems weird with Disney World a mere 3000 miles away, but five-year olds don't know the difference . . . yet.
This week we'll share some odds and ends . . .
EXHIBITOR 2012
It is oh so close. A mere five weeks away. We'll be in booth #1645, a 20′ x 30′. And just like your typical customers, the exhibit design is nearly done, we've outlined the graphic concepts, and we're juggling 100 balls at the same time. Next year, "we'll be done by December," our mantra since 2005.
Classic Exhibits / Eco-Systems Sustainable Reception. We'll host a reception on Tuesday, March 6, in a Mandalay Bay Suite. The reception will be from approximate 3:30 to 7 pm, or until we exhaust our beer, wine, and snacks. Please touch base with us on Monday or Tuesday at EXHIBITOR for the room number.
Optima Graphics Reception. You'll also see our friendly faces at the Optima Graphics Reception on Monday March 5 in the Mandalay Islander D-E Ballroom. Please check with our good friends at Optima for details.
Other Classic Exhibits Displays. Based on our latest count, there should be around four or five Classic-built displays at EXHIBITOR. Ask us about them at the show, and we'll give you an unofficial tour.
New Product Showcase. This year we submitted the MOD-211 iPad Counter Insert into the EXHIBITOR New Product Showcase. The MOD-211 is available on most Classic Counters, Pedestals, and Workstations. It's an easy and secure way to transform any counter top into a iPad station. You'll see several examples in our booth.
FREE Pass. For a free pass to the show hall compliments of Classic Exhibits and ClassicMODUL, click HERE.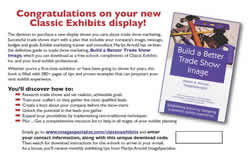 Upcoming Promotion
We've teamed up with Marlys Arnold, the Image Specialist, to offer her book Build a Better Trade Show Image to your customers. Starting in mid-February, we'll include an "Our Gift to You" promotional postcard with most inline and island hybrid displays, such as Sacagawea, Magellan, Perfect 10, Visionary Designs, and SEGUE. The postcard will have a unique code where they can download the 280+ page e-book on how to launch, improve, finesse, or fix their trade show marketing program. It's an excellent book, valued at $27, which every trade show expert or novice should own.
To see the download page, please go to www.imagespecialist.com/classicexhibits. Marlys will be at EXHIBITOR 2012, including several sessions in the Classic Exhibits booth and (probably) at the Classic Reception. We encourage you to meet Marlys and pick her brain on training programs available to you and to your customers.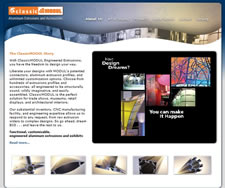 ClassicMODUL Aluminum Extrusions
We hesitate to use this term . . . but the ClassicMODUL website is now "sexy." Well, as sexy as engineered aluminum extrusion can get. We've made a number of significant changes to the website, including easier navigation, an extrusion depot site legend, and a very cool page flipping tool to browse the MODUL 6.0 Index. In the next week or so, we'll also be adding extrusion photos in addition to the renderings.
When do you order from ClassicMODUL (and not Classic Exhibits)? Whenever you are ordering cut or full-length extrusions on projects you are project managing yourself. ClassicMODUL provides CAD services and can detail the extrusions you'll need. They can guide you toward the most cost-effective solutions based on your design. Plus . . . there are ClassicMODUL extrusion depots in Portland, OR, Cheshire, CT, and Birmingham, AL.
Some New Products You May Have Missed (in Your Haste to Make a Living and Have a Life)
Some Changes to Exhibit Design Search You May Have Missed (in Your Haste to Make a Living and Have a Life)
Audio Clips: Over the past three months we've added 30-40 second audio clips to many kits in EDS. These clips give a brief description of the features and benefits of the products, such as the Quadro S Pop Up, Xpressions, Visionary Designs, or Design Monday.
eSmart Galleries: We recently changed the name of these galleries from Eco-Smart to eSmart. Not a big change, but one that was intended to send a subtle message. The eSmart Galleries are not only eco-friendly designs, but also distinctive and affordable designs whether your client is interested in a green display or not. We encourage you to include the eSmart galleries in your search whenever you're looking for a 10 x 10, 10 x 20, or island. Go for the design . . . get Green as a bonus.
Brumark and Display Supply and Lighting: These are not new, but way down at the bottom of EDS, there are four galleries for Flooring, Exhibit Supplies, and Lighting. These are the Brumark and Display Supply and Lighting Galleries. If you use these galleries, please let them know. If you would like to see changes or additions to these galleries, please let them know. They are important strategic partners of Classic Exhibits and of Exhibit Design Search.
Anywho . . . we are looking forward to seeing you at EXHIBITOR. Please stop by the booth and join us at the Reception. If you would like to meet with Kevin, Reid, Jim Shelman, or me during or after show hours, please let us know. We are filling in our appointment slots PDQ.
See you later alligator! (I am so old).
–Mel White
http://www.linkedin.com/in/melmwhite
mel@classicexhibits.com
*********************************
Based in Portland, Oregon, Classic Exhibits Inc. designs and manufacturers portable, modular, and custom-hybrid exhibit solutions. Classic Exhibits products are represented by an extensive distributor network in North America and in select International markets. For more information, contact us at 866-652-2100 or www.classicexhibits.com.