Milestones and Timeline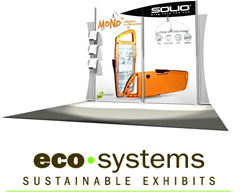 In just over four years, Eco-Systems has become the leader of innovative and sustainable exhibit products and practices. Eco-Systems offers customers high-quality "green" display options — from table tops to islands — through a network of over 90 certified distributors in North America.
The timeline below highlights many of the important events that have shaped Eco-Systems, including the development of many eco-friendly first materials and product lines.
January 2007: Eco-Systems Sustainable Exhibits is incorporated.
February 2007: Eco-Systems develops the first series of proprietary products to replace PVC (the most dangerous man made life-cycle plastic).
March 2007: Eco-Systems Sustainable Exhibits pioneers the nation's first branded modular exhibit system built from LEED accredited materials at EXHIBITOR2007 in Las Vegas, thus creating a new "green" category in the exhibit industry.
March 2007: Eco-Systems stuns the industry with a coveted Buyer's Choice Award at EXHIBITOR2007.
April 2007: Eco-Systems develops Eco-Poly Print Media, a 100% recycled plastic media for water-based print applications.
May 2007: Eco-Systems begins development of national distribution network.
August 2007: Eco-Systems further validates sustainable exhibit products with 1st Place Award in Best of the Best category at the TS2 Show.
February 2008: Eco-Systems begins development of Paradise Fabric, made from 100% recycled post-consumer soda bottles.
May 2008: EPA announces formation of Sustainable Green Meetings Standards writing initiative. Eco-Systems president Tim Morris is a key participant in activities.
June 2008: Eco-Systems enters into a joint-venture partnership with Classic Exhibits Inc. to take advantage of design, manufacturing, and distribution strengths.
September 2008: Eco-Systems partners with Optima Graphics to supply the trade show industry with Paradise Fabric and other green materials.
February 2009: Eco-Systems introduces Greencore, a biodegradable and printable substrate as an alternative to Sintra.
January 2010: Due to lower material costs and production efficiencies, Eco-Systems is able to drastically lower prices across the board.
June 2010: Eco-Systems and Classic Exhibits enter an equity partnership.
March 2011: Eco-Systems moves manufacturing facility to Portland, Oregon to take advantage of production synergies between Classic Exhibits and Eco-Systems.
For more information about Eco-systems and sustainable trade show alternatives, go to www.ecosystemsdisplays.com or contact Eric Albery, VP of Marketing and Business Development at 866.463.2611.
Tags: Classic Exhibits, eco-systems displays, green trade show displays, Greencore, Optima Graphics, Paradise Fabric