Last month, Tim Patterson at Interpretive Exhibits conducted a Blogging for Beginners webinar. If you missed it, you can still see it through the magic of YouTube.
Here's what Tim had to say about the webinar on his website (www.tradeshowguyblog.com):
Want to hear about blogging? Want to know how WordPress works? Here is video playback of the Blogging 101 webinar I hosted in late September with the assistance of Classic Exhibits.
Keep in mind this is really aimed at beginning bloggers or those who are still trying to figure out what it's all about and how they might use it.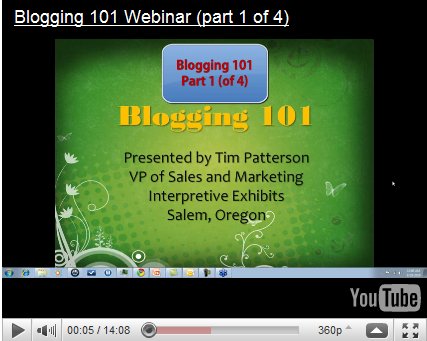 Enjoy!
–Mel White
http://www.linkedin.com/in/melmwhite
mel@classicexhibits.com
Classic Exhibits Network (LinkedIn)
Tags: blogging, Classic Exhibits, Interpretive Exhibits, Tim Patterson, Webinar, WordPress