Who's Headed to Beantown?
And Have You Voted for the TSEA Awards?

Classic Exhibits Inc. will of course be at TS2. We are in booth #315. Be sure to come by and see the beautiful 20 x 20 island we have designed. It highlights many of the new TSP profiles from ClassicMODUL which accept Silicone Edge Graphics, most of which are "backlit"! We are also showing one of the newest Sacagawea PS kits and a totally redesigned Magellan kit that will look somewhat familiar but much improved.
You will also notice the "frosting" to our booth, meaning the parts that make it shine. We are showing off SEG graphics from Optima as well as a custom-cut FlexFloor from our partners at Brumark. And last but not least, big thanks to Cort Furnishings for your assistance on the furniture!
As I have said before, TS2 is a unique show for Classic in many ways. Not only is it an opportunity to show off new products and designs to the attendees, but it is also an opportunity for Classic to spend time with many of our Custom House and Portable Modular distributors — whether they represent ClassicMODUL metal or Classic Exhibits designs and kits.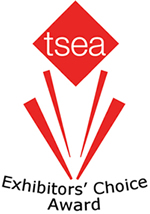 TSEA Awards
This year is a very special year as we have been nominated for The Best Exhibit House Award that will be announced at the TSEA Gala on Wednesday night. If you have not gotten your tickets for the event, please do. They are only $20 if you purchase now or $30 at the door. AND . . . please remember to vote as well!! You do not have to attend the gala to vote. Shameless I know. 🙂
Exhibit Design Search Webinars
As you may know, Mel White hosted two very successful and well-received webinars this past week on Exhibit Design Search:  Tips, Tricks, and Techniques . Make sure you come by and let him show you in person what he was able to share with nearly 70 distributors this past week: namely all the exciting new features of Exhibit Design Search. Mel will conduct another EDS webinar in August, so if you missed the webinar last week you will have another chance.
We hope to see you in Boston and that you take the time to come by and say "hello." If you're there during setup, please bring me water. The NE summer humidity is not something a native Oregonian is used to.
I look forward to seeing you all.
Be well and have a great weekend.
–Kevin Carty
http://twitter.com/kevin_carty
http://www.linkedin.com/pub/kevin-carty/3/800/32a
Tags: Boston, Brumark, Classic Exhibits, ClassicMODUL, Exhibit Design Search, Magellan, Sacagawea, Silicone Edge Graphics, TS2, TSEA, Webinars