Distributor Sales or Direct Sales? Why Distributors Matter.
This has been a hot topic all week.
Not that it's something Classic has contemplated. Much to the contrary. But for some reason, I was asked about this several times.
"Do you sell direct?" . . . "Hey, can I order directly from you?" . . . "Why don't you sell direct?"
I thought I'd take a moment to address our philosophy on this matter.
First let me say that this is not to slight any manufacturers that sell direct and work through distributors at the same time. Some of our friendliest competitors do that in specific markets, like their own backyards, and it works well for them. Which is fine. Others have opted to go for Company Branded Locations or Company Stores in key markets, and that works well for them. Classic, for instance, has Exhibits Northwest, which sells exclusively in Washington and Oregon. But, Exhibits Northwest is not exclusive in those markets. We have other distributors in Oregon and Washington as well.
When we first entered the market in 1993, there were many established manufacturers already. We were essentially five guys in a garage . We weren't, but you know what I mean. As such, we did not have the "reach" of other companies, so we needed to rely on distributor relationships to spread the word about Classic Exhibits' products.
Then in about 2005, when we decided to re-brand the company and really start marketing the our products and services, we made a conscious decision. We recognized that we were not a "National" brand, nor did we feel that was the right approach for our company. Instead, we opted to focus on branding our marketing materials for distributors in each given market. In other words, we recognized that it was THEIR brand that mattered — not ours. Our products and our marketing materials would serve to strengthen their brand.
That is the essence behind Exhibit Design Search. Provide distributors with a professional search tool at very little cost, brand it for their website, deepen their product offerings, and substantially elevate their web presence in their market. A larger presence means more opportunities to close sales and more opportunities to sell Classic products. In other words, Shared Success.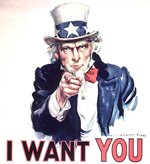 Now, fast forward to the present. We have invested a large amount of time and energy to develop what we feel is the best Distribution Network in the Industry. And in most cases, we have created Partners, not just Distributors, and forged relationships with companies that believe in the philosophy of Shared Success. Classic started with a distribution model and has kept it that way since the company was incorporated. Our Distributors are our life's blood.
Having said all that, to answer the questions from earlier this week, we will never sell direct. We have too many good partnerships and friendships. Why risk a solid partnership and years of sales by selling a Perfect 10 or Visionary Designs direct? That makes no sense. We're NOT THAT STUPID.
To quote Mel White, our resident curmudgeon, "Working with distributors is a big enough pain in the ass. Why complicate our lives even more by working with end-users."
Thanks to you all.
Be well and have a safe and restful weekend.
–Kevin Carty
http://twitter.com/kevin_carty
http://www.linkedin.com/pub/kevin-carty/3/800/32a
Tags: Classic Exhibits, Distributors, Exhibit Design Search, Exhibits Northwest, Perfect 10, Visionary Designs