Perhaps it's time to start a new tradition — Mid-Year Resolutions. Now, you're probably saying to yourself, "I never keep my resolutions, so why should I make more in July." Think back for a second. Did you make those 2016 resolutions around 11 pm December 31st? With a drink in your hand?
We all make them. Lose weight. Get fit. Eat better. Read a book. Spend more time with the family. Who are you kidding? No one keeps those. There's no financial incentive. Heck, it's better to daydream about being skinny or how you'll spend your $540M MegaMillions lottery winnings.
I'd like to propose five sober resolutions to my trade show friends. Each one represents a financial opportunity you may not be pursuing or maximizing.
Don't expect a Tony Robbins you're a winner speech or a No Money Down Guide to Flipping Displays. These are real mid-year resolutions. They require effort. But no one's asking you to eat kale, do push ups, or spend time with your second cousin Crazy Sal. Be assured, I'm rooting for you to win the Powerball Jackpot, but until then, try these.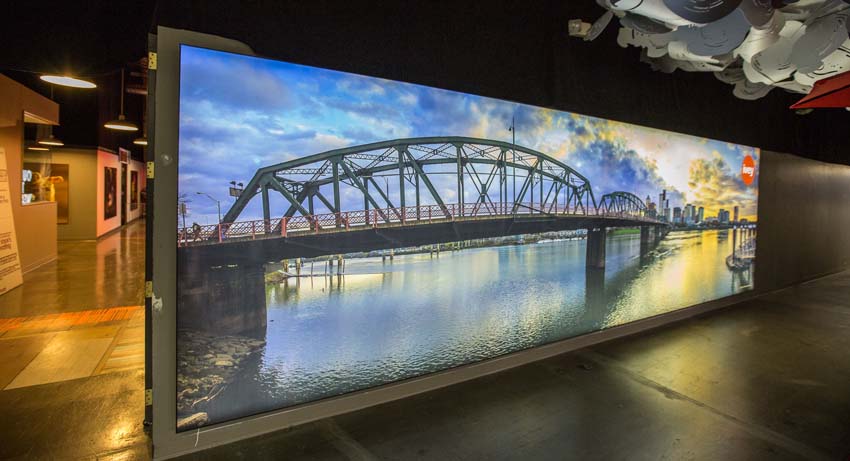 LED Lightboxes
I know. You are showing lightboxes in island exhibit designs. Big deal. Islands are only the tip of the iceberg. There are inlines, which is a bigger market.
However, there are even bigger markets:  corporate environments, retail stores,  events, public spaces like airports, stadiums, museums. The potential is massive if you are willing to work with customers outside your comfort zone. Are you chatting with architects, event planners, marketing and advertising agencies? No one has more lightbox options than Classic Exhibits with our SuperNova line. Any size. Any shape. Very cost-effective solutions for single or double-sided lightboxes.

Rental Exhibits
Don't sigh or roll your eyes. Here's a reality check and a prediction. Within the next three years, rentals will represent at least 40 to 50% of all exhibits at major trade shows. Of those, maybe 20% will be ho-hum kits. Those who win the long-term rental battle will approach rentals with the same design intensity as a new exhibit. You can quote me on this — "Creative rental exhibitors will recognize a better ROI because of their willingness to adapt to changing markets with targeted exhibits."
Building a rental inventory is expensive. Classic Rental Solutions has already made that investment and will continue to invest in custom, hybrid, and Gravitee solutions. Unlike nearly everyone else, we have the luxury of a large distributor/customer base. That allows us to turn and depreciate those assets faster and add new designs. Bigger really is better when it comes to rentals.

Rental Furniture
This is a gift that will keep on giving. With the new Rental Furniture Galleries and our partnership with Cort, you can consult, sell, and make a healthy margin on Rental Furniture. Do you really want to "give" that business to a GSC. Of course not. You care about your customer, and you want them to make the best possible decision about their rental furniture options. You want their furniture to be functional, attractive, and cohesive with their exhibit design.
Most Exhibit-Appointed Contractors will tell you that 75-90% of their installs include rental furniture. And, it's not just islands. Walk any major trade show and you'll see a bistro table and chairs in a significant number of inline displays.

Charging Stations
Why do convention centers have bathrooms? Because people gotta go. Why are exhibitors increasingly adding charging stations to their booth spaces? Because people need juice for their phones and tablets. It's no longer a need. It's a necessity.
Don't force attendees to linger in the reception area like electric beggars. Or worse, force them to hunt for an outlet along the perimeter of the hall. That's humiliating and nasty. You want them in your booth space. Give them a reason to linger and talk about their business, their kids, and their favorite college football team. Make a friend instead of just exchanging business cards and trinkets.
Classic can install USB charging ports in almost any counter, pedestal, workstation, monitor stand, or table. And we design them all so they don't look like an ugly airport charging tower. Plus, it's very unlikely you'll discover ABC gum under the countertop of a Classic Charging Station. Yuck!

Non-Trade Show Projects
At Classic Exhibits, we're no longer exclusively in the trade show business. We design and build whatever someone needs for their trade show, event, retail space, visitor's center, or corporate environment. That should be your approach as well.
Why not? No one understands 3D marketing better than exhibit professionals. You may not be an expert in custom cash stands or corporate lobby desks, but if you have an open-mind and a solid partner, you'll get there.
We get many projects that have little to no connection to trade shows. Yes, your client may need a new display, but what else do they need? Big lightboxes in the company conference room with corporate values statement. An employee recognition wall. Restaurant menu board. Tablet stands or kiosks. It's there waiting for you to ask the right question and make a connection with the right source.
Embrace the mid-year resolution. It's July, and there's a surge of potential orders on the horizon. Share your comments and suggestions below. And no whining.
–Mel White
mel@classicexhibits.com
http://www.linkedin.com/in/melmwhite
https://twitter.com/melmwhite
**********************************************
Based in Portland, Oregon, Classic Exhibits Inc. designs and manufacturers portable, modular, and custom-hybrid exhibit solutions. Classic Exhibits products are represented by an extensive distributor network in North America and in select International markets. For more information, contact us at 866-652-2100 or www.classicexhibits.com.
Tags: charging stations, Classic Exhibits, Lightboxes, Mel White, resolutions, trade show exhibit rentals, trade show furniture rentals