Classic Exhibits Honored with the 2014 EDPA EDDIE Award
The 2014 EDPA ACCESS Event wrapped up in Florida on Friday December 5. But it was, as always, Thursday night that served as the BIG Night for the Exhibit Industry. Thursday night was the Gala Event, The EDPA Foundation Silent Auction, and the Annual Award Presentations.
The Awards, such as The Ambassador Award, The Hazel Hayes Award, and Designer of the Year Award are given to individuals in the exhibit industry. But there is another category of awards called the EDDIE Awards. The EDDIE is given to companies for their Marketing Excellence over the past year.
We Won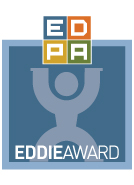 This year, Classic Exhibits Inc. won an EDDIE. And to say we are proud and unbelievably honored is an understatement. We won specifically for Exhibit Design Search or EDS as so many of you have come to call it.
The award is presented as a "company" award, but let me tell you who this is really for… Mel White! Mel is the VP of Marketing and Business Development at Classic Exhibits. And while many of you know this already, he is the visionary behind EDS.
Now, as Mel would say, Exhibit Design Search is a collective effort. Tony Bennett, the Classic Exhibits Web Developer, is critical to the success of EDS. He is the genius that makes it all work seamlessly on the web and your "Go To" guy for every distributor-branded website. And then there is Glenna Martin, our Graphic Designer. Glenna plays a key role in the overall branding. There are the Classic Exhibit Designers who create all the beautiful designs that populate EDS with fresh new ideas, and the Customer Service Team who sweat over the Setup Instructions and Graphic Dim Sheets. And of course, every distributor who has offered suggestions, and our wonderful strategic partners in EDS — Optima, DS&L, Brumark, and Eco-Systems Sustainable.
Mel will be humble and say that everyone at the company has a part in the acceptance of this award, and while we appreciate that, as his partner at work and as a representative of the company as whole, I know better. EDS is Mel's baby, his Brain Child, His Vision. And that Vision has helped transform Classic in so many ways over the past nine years.
This past Thursday night, my cell phone blew up when we won the award — from Reid, Jen, and Jim who were on site at ACCESS, and from so many partners and customers who were in attendance at ACCESS. There was one common thread in all the texts, emails, and phone calls. That common thread was "I/We are so happy for Mel." That says it all to be frank.
So, as your friend and as your partner day in and day out Mel — CONGRATS! I, too, was beaming with pride and joy when I heard the news, proud of you and joyful that you were recognized for all your dedication and hard work.
BTW — Mel serves as my editor for this blog each week, not changing anything per say, rather editing my runoff sentences, adding commas, etc. And he is gonna REALLY REALLY hate that I did this.  🙂
Congrats my friend!
–Kevin
http://twitter.com/kevin_carty
http://www.linkedin.com/pub/kevin-carty/3/800/32a

[subscribe2]
Tags: Classic Exhibits, EDPA Access, EDPA EDDIE Award, Exhibit Design Search, marketing