Hit the Ground Running . . .
On Wednesday, June 25, Classic Exhibits will offer a free Exhibit Design Search Tips, Tricks, and Techniques Webinar. Join us when we review significant updates to EDS since the last session, including an expanded My Gallery, Trade Show Tips, and the new Price Range tool.
If you haven't attended an EDS webinar, you'll learn how to streamline your sales and design process and turn prospects into orders. Techniques include understanding advance search options, building shared galleries, and navigating seamlessly within EDS in a fraction of the time.
If you have attended a previous EDS webinar, discover even more features that will turbocharge your sales.
This is a MUST for anyone with a branded EDS website!!!!
Seats are limited, so REGISTER NOW! [https://www2.gotomeeting.com/register/909473202]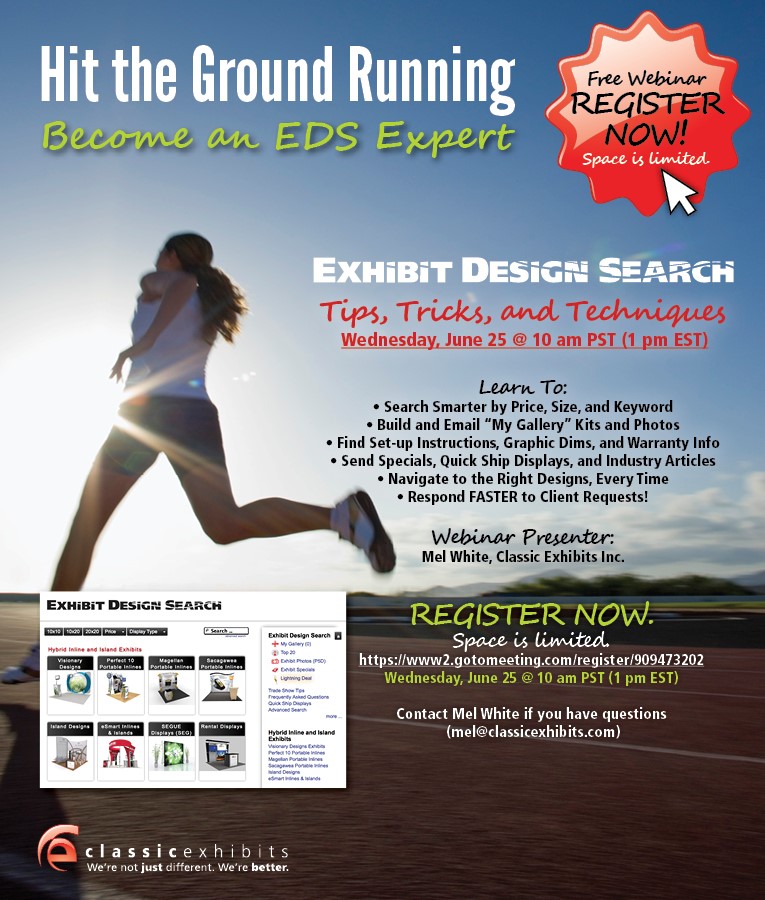 Should you have any problems registering (GoToWebinar can be finicky sometimes), send me an email and I'll register you. For more information about recent Exhibit Design Search updates, see the following blog post.
–Mel White
http://www.linkedin.com/in/melmwhite
mel@classicexhibits.com
**********************************************
Based in Portland, Oregon, Classic Exhibits Inc. designs and manufacturers portable, modular, and custom-hybrid exhibit solutions. Classic Exhibits products are represented by an extensive distributor network in North America and in select International markets. For more information, contact us at 866-652-2100 or www.classicexhibits.com.
Tags: Classic Exhibits, displays, Exhibit Design Search, exhibits