EXHIBITOR Magazine's Awards Night Gala
Get excited!!!!!
We have an Awards Night for the first time, complete with networking, dinner, and drinks. It is sanctioned by EXHIBITOR and promises to be quite the gala based on the many conversations I've had with the EXHIBITOR team.
Classic Exhibits is VERY PROUD to be a sponsor for this inaugural event. We have several exhibits in the running for awards, along with many Classic distributors and their clients.
Awards include:
Exhibit Design Awards
Portable/Modular Awards featuring The Zeigler Award
Buyers Choice Awards
Best of Show EXHIBITOR2014
EXHIBITOR Legends H-O-F Inductee
Corporate Event Awards
All-Star Awards
Sizzle Awards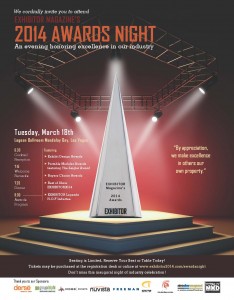 As mentioned before, your ticket to the event includes dinner and drinks, as well as an opportunity to network with colleagues and attendees. What a great evening to bring your clients to celebrate trade shows and the Best of the Best.
I applaud the management team at EXHIBITOR Media Group for embracing and organizing this event to celebrate the beauty, the art, and sheer creativity of what we do as an industry. And I am very excited to see what Justin Hersch and his event production team from Delphi Productions have in store for all the attendees.
For tickets, please follow this link. We will be in attendance and look forward to spending the evening with you.
http://www.exhibitor2014.com/awardsnight
From snowy Portland Oregon . . . I wish you all a great weekend with your families. And a sincere thanks for all the positive comments about the new Classic Exhibits website.
–Kevin
http://twitter.com/kevin_carty
http://www.linkedin.com/pub/kevin-carty/3/800/32a
[subscribe2]
Tags: Classic Exhibits, displays, Events, Exhibitor2014, exhibits, Portable Modular Awards, Portable/Modular Awards featuring The Zeigler Award