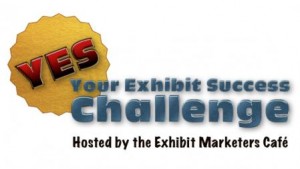 Let the Challenge Begin!
Today begins three weeks of education and inspiration to spur your exhibit marketing plans forward for this fall's shows and beyond.
Agenda
8/6    Katina Rigall from Classic Exhibits Inc.:  "Design Trends for Memorable Exhibits"
8/8    Simon Harrop from BRAND Sense:  "Incorporating Multisensory Marketing"
8/13  Heidi Thorne from PromowithPurposeToday.com:  "Creative Ideas for Promotions"
8/15  Steve Lager from AudioVision Productions:  "How to Use Video to Promote & Engage"
8/20  Marlys Arnold from Exhibit Marketers Café:  "Who's the Face of Your Exhibit?"
8/22  Siobhan Connellan from Experient:  "Lead Management Secrets"
How to Participate
Each week during the Challenge, you'll receive an e-mail with links to the expert interviews as they're available (scheduled for Tuesdays and Thursdays). You'll have until Sunday night that week to listen before the replays go away.
Also each week, we'll be issuing a Challenge related to that week's topic. While it will require some thoughtful consideration, it won't take a ton of time for you to complete. And keep in mind that these Challenges are ultimately designed to move you forward in your exhibit marketing strategies!
Your Reward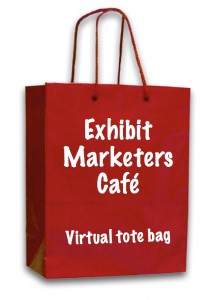 Complete all three weekly Challenges and you'll have the opportunity to pick my brain … for free! Simply submit a short form each week to share your ah-ha's from each speaker and respond to the Challenge. I'll send you an invitation to a VIP call in September where you can ask me anything. (And yes, that will be recorded as well.)
Bonus Goodies
Just because this is a virtual event doesn't mean you can't have some goodies for your tote bag! So here's my first bonus gift for you: An excerpt from Build a Better Trade Show Image on setting goals (PDF)
For more great exhibiting strategies, join us in the Exhibit Marketers Café — It's the place to get what you need to nourish and refresh your exhibit marketing program.
See you in the Challenge!
Marlys Arnold
P.S. Want to recommend the YES Challenge to someone? Please don't forward this e-mail, but instead send them to www.exhibitmarketerscafe.com/yeschallenge. (And of course sharing that link on Twitter, Facebook or LinkedIn is also appreciated – Thanks!)
Tags: Exhibit Marketing, Marlys Arnold, training